Inflation Reduction Act - ENERGY STAR Home Upgrade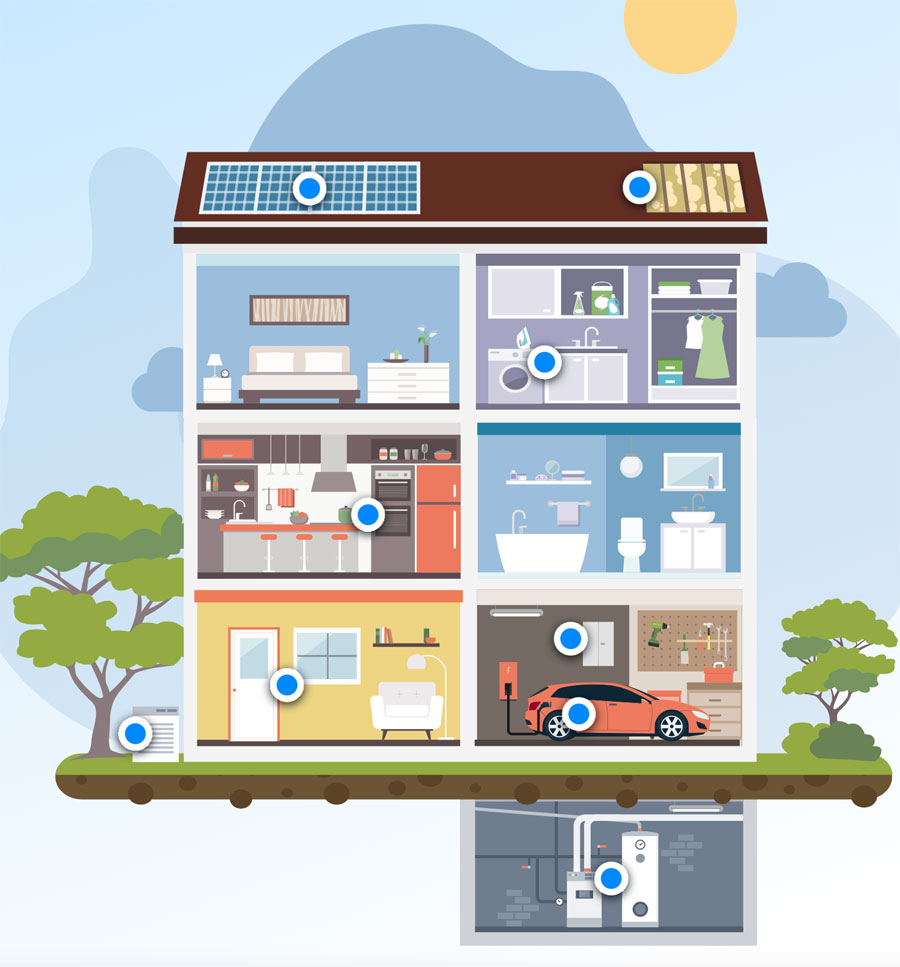 The Inflation Reduction Act lowers energy costs for consumers and small businesses and allows you to save on utility bills, get support to purchase energy-saving appliances, and access the economic opportunities of the clean energy future.
When homes need to replace their heating or cooling systems, families can get tax credits for efficient heat pumps that ensure comfortable home temperatures. By doing the job of both a furnace and air conditioner, heat pumps work to keep homes warm in the winter and cool in the summer.
Households can claim a tax credit for 30% of the costs of buying and installing a heat pump, up to $2,000 including support for any electric system upgrades needed to make the home heat-pump-ready.
Beginning in 2023 state programs offer low- and moderate-income households rebates for heat pumps at the point-of-sale, cutting costs of purchase and installation up to $8,000. If home electrical upgrades are needed to integrate new heat pumps, rebates of up to $4,000 are available to households.
AIR-SOURCE HEAT PUMPS
More efficient than furnaces or boilers, heat pumps serve double duty with heating and cooling, making this investment usable year-round. Combine this upgrade with other high impact energy-efficiency improvements to achieve significant energy and cost savings while transitioning from fossil fuels for a cleaner, healthier, and more comfortable home.
Electric air-source heat pumps (ASHPs), often used in moderate climates, use the difference between outdoor air temperatures and indoor air temperatures to cool and heat your home. ASHPs that earn the ENERGY STAR label are independently certified to save energy, save money and protect the climate.
An ENERGY STAR certified ASHP provides highly efficient heating and cooling by extracting heat from outside, into your home in winter and pulling the heat out of your home in the summer. For some, it may be helpful to think of a ducted ASHP as a central air conditioner that also works in reverse to provide whole-house space heating in winter.
Ducted Air Source Heat Pumps
Ducted air source heat pumps use your home's existing ductwork to deliver heating and cooling. In most homes, depending on factors like the climate zone, these units can be installed as a drop-in replacement for your central air conditioner or furnace. A contractor can help you determine if your home is a good fit for a 1:1 replacement.

During the summer months, the heat pump serves as a central air conditioner and reduces cooling costs compared to conventional air conditioners. In the winter months, a heat pump can deliver up to three time more heat energy than the electrical energy it consumes, costing less to operate than traditional HVAC equipment such as furnaces, boilers, or electric resistance heat.
Ductless Heat Pumps
Often referred to as a "mini split", a ductless heat pump, is a good alternative to replace a window cooling unit (room AC), as well and as radiator or baseboard heating, meaning it can replace a traditional HVAC system while delivering savings year-round.

A head unit, or multiple head units, are mounted on an interior wall or ceiling, with an accompanying unit outside. The outside unit extracts heat from the air, even when it's cold. Refrigerant carries the heat directly to the head(s) inside, which then delivers heated air to occupied space. In warmer months, the system works in reverse for quiet, efficient air conditioning.

Mini splits are increasingly being used in these types of situations:


Older homes with no existing ductwork (e.g., radiators or baseboard heat) that have never had central air conditioning before.

Additions or outbuildings (e.g., shed, barn, garage) where extending ductwork or heating/cooling capacity is difficult.

Spaces adjacent to unconditioned spaces where ductwork would be exposed to harsher temperatures (e.g., a guest room above a garage).
Geothermal Heat Pumps
Geothermal heat pumps exchange heat with either a body of water or the ground, using a fluid that is pumped through a series of pipe loops, rather than exchanging heat with the outdoor air. These products can either condition your home by circulating air (like a furnace or air conditioner) or circulating water (like a boiler). They are also occasionally called ground source or water source heat pumps.
Ready to find the right system for your home? The ENERGY STAR Product Finder can help!
SUPER-EFFICIENT WATER HEATER
Water heaters use about 20% of a home's energy. An important element of an ENERGY STAR Home Upgrade is a heat pump water heater that earns the ENERGY STAR label, which is up to 4 times more efficient and uses 70 percent less energy than a standard model. Upgrading to a high efficiency heat pump water heater can help you prepare for a clean energy future, as our energy supply gets cleaner and more renewable every day.
SMART THERMOSTATS
While a smart thermostat itself doesn't use much energy, it is an important part of an ENERGY STAR Home Upgrade because it controls equipment that uses a lot of energy for heating and cooling. Smart thermostats that earn the ENERGY STAR label are independently certified, based on actual field data, to save energy and save you money on your energy bills.
Some smart thermostats include more high-end features than others, meaning prices for smart thermostats can vary widely, ranging anywhere from $50-$300. Depending on where you live and your utility, there may be an opportunity to get an ENERGY STAR certified smart thermostat at a reduced price, either through a discount or rebate. Use the ENERGY STAR Product Finder to review product features and enter your zip code to identify stores and prices in your area, as well as any available utility rebates.